Traditional Irish Soda Bread
Irish Soda Bread is a staple of Irish cuisine and a delicious reminder of the past, with origins dating back to the 19th century when baking soda became widely available in Ireland. This simple recipe quickly became a household staple as it required few ingredients, was easy to make and could be cooked on an open fire.
Nowadays, Irish Soda Bread is particularly popular during St. Patrick's Day celebrations. This recipe adds a touch of nostalgia by using Kate's Buttermilk which gives the bread an extra layer of flavor and richness that will surely make your taste buds dance.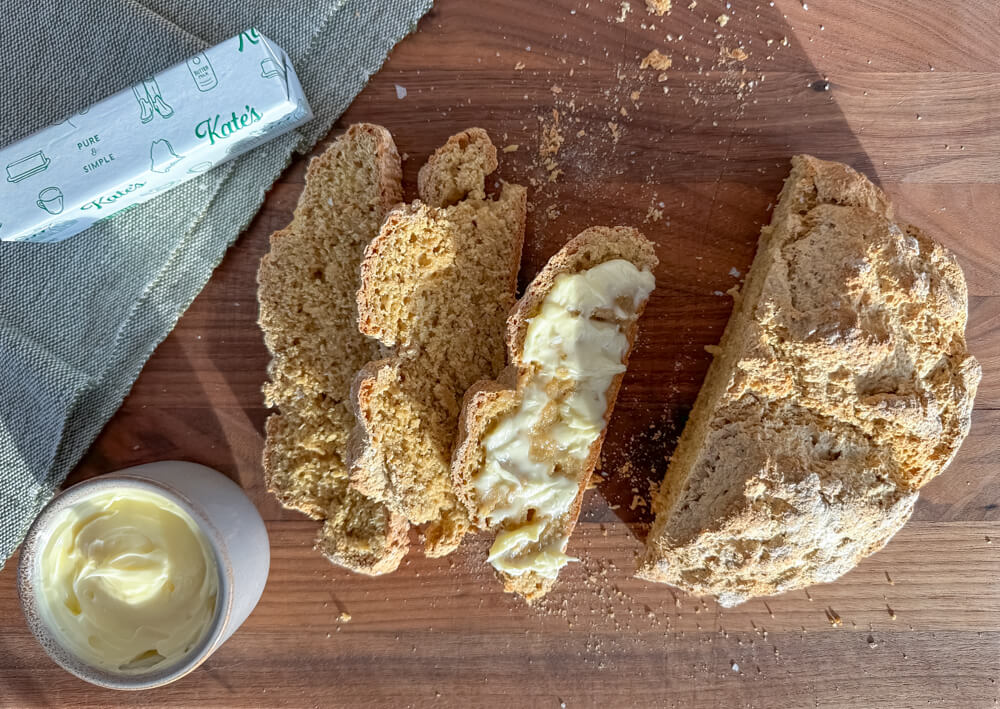 Ingredients
3 ½

cups

unbleached all purpose flour

¾

teaspoon

kosher salt

¾

teaspoon

baking soda

1 ½

cups

Kate's buttermilk

1

tbsp

Kate's butter (optional)
Instructions
Preheat your oven to 450°F and prepare a baking sheet by lining it with parchment paper. In a large mixing bowl, whisk together the flour, salt, and baking soda to combine thoroughly.

Create a well in the center of the dry ingredients using a wooden spoon. Pour the buttermilk into the well and gently stir the ingredients together, starting at the center of the bowl and working outward. The dough will be shaggy and sticky, which is exactly what you want.

Lightly flour a work surface and pour the dough out onto the surface. Use your hands to gently knead the dough about 4 times until it comes together and the surface is slightly smoother. Shape the dough into a round loaf using the palms of your hands.

Place the loaf on the prepared baking sheet and lightly sprinkle the top with flour. Use a sharp knife to make a large X on the top of the dough.

Immediately transfer the loaf to the oven and bake for 15 minutes at 450°F. Reduce the oven temperature to 400°F, rotate the pan 180°, and continue baking for an additional 25-30 minutes until deeply golden brown.

Remove the bread from the oven. Allow the bread to cool for at least 10 minutes before serving warm with Kate's Salted Butter.
Nutritional Info
Total Carbohydrate
351.9g