Vegetarian Potato Leek Parsnip Soup
Mmmm, soup. There's nothing like a warm bowl of soup to comfort you on a cold day. This Vegetarian Potato Leek Parsnip Soup is not only comforting, but it's also healthy and delicious. Best of all, it's easy to make—you just need a few simple ingredients. So next time you're looking for something tasty and warming to eat, give this soup a try! You won't be disappointed.
We love this recipe because it incorporates Kate's Buttermilk, which is a great source of calcium and protein, which are both essential for bone health. Buttermilk also contains lactic acid, which can help to reduce the risk of gastrointestinal issues. Additionally, buttermilk is a good source of probiotics, which can promote a healthy digestive system.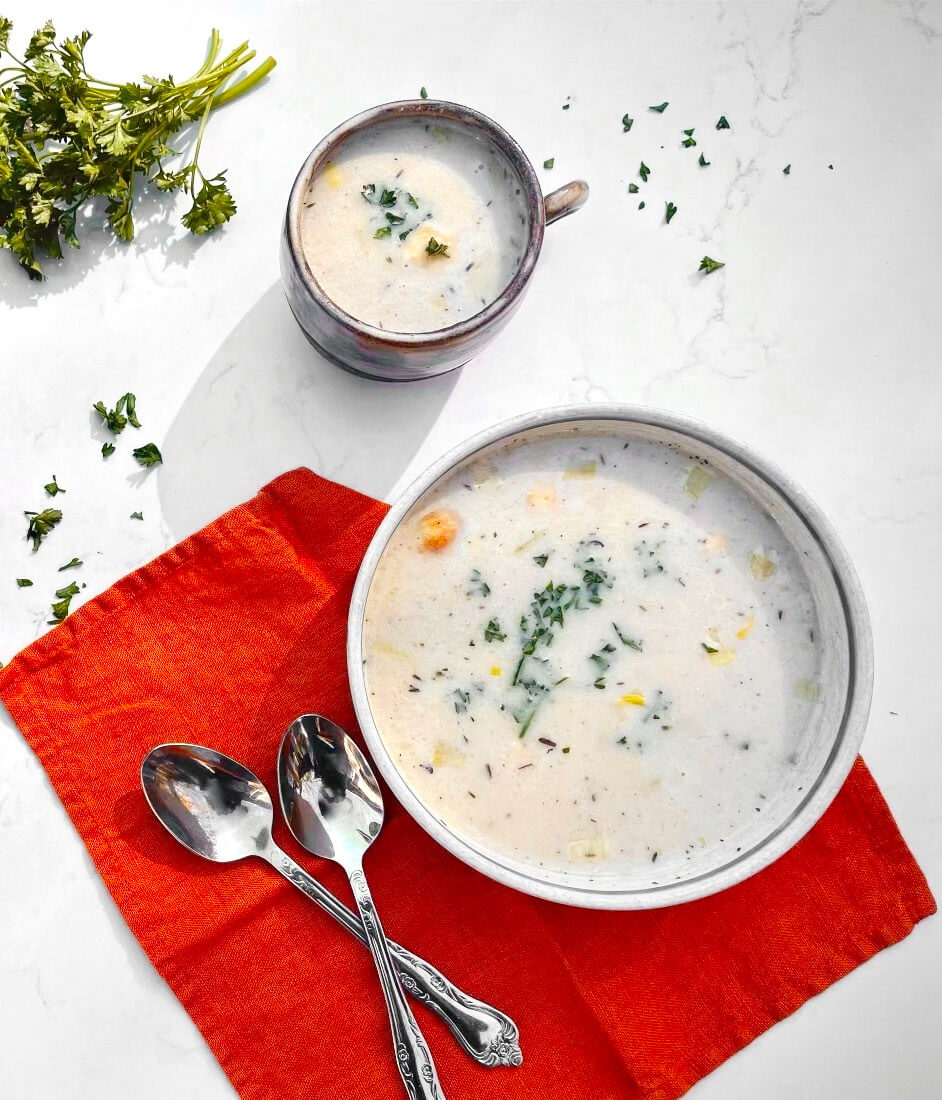 Ingredients
2

medium size Russet potatoes

3

medium size parsnips

1

medium size leek

1

tsp

dried thyme

1

Tbsp

olive oil

3

Tbsp

Kate's Salted Butter

6

cups

vegetable broth

1/2

cup

Kate's Buttermilk

1/2

cup

half & half creamer

salt and pepper to taste
Instructions
Preheat oven to 400 degrees.

Peel and chop potatoes and parsnips into 1-inch pieces.

Place potatoes and parsnips in a large bowl and add in the oil. Mix until well-coated.

Spread onto a cookie sheet pan and roast for 30-40 minutes, or until light golden brown in color and pieces are soft.

While vegetables are roasting, prepare the leek by cutting off and discarding the root end and the thick dark green part of the leek.

Cut the leek in half lengthwise and rinse thoroughly under cold water. Make sure to pull the layers apart and rinse well. Leek may have dirt in between the layers.

Once the leek is washed well, chop into small pieces.

On low heat, melt butter in a dutch oven or medium size soup pot. Add leeks and thyme and sauté on low until leeks are well softened, stirring occasionally.

When vegetables are done roasting, put half of them in a blender, along with half the leeks and half the vegetable broth. Puree until it becomes smooth and creamy.

Pour the puree back into the dutch oven.

Put in the remaining broth and roasted vegetables.

Stir well, and then add the buttermilk and half & half creamer.

Do not bring soup to a boil, buttermilk will curdle.

Taste for seasoning and add pepper and salt to taste. Warm soup through and serve.