Kate's Butter Board
There was no way we weren't getting on the Butter Board train. Thanks to chef and author Joshua McFadden who first wrote about the perfect shareable spread in his cookbook Six Seasons: A New Way with Vegetables, we now have a recipe that puts Kate's Butter center stage.
Our famous churn-style Sea Salted Butter brings a flavor all its own and takes your party dish to the next level. Made with farm-fresh dairy from New England's finest dairy cows, our Maine-made butter is the perfect centerpiece to this simple appetizer.
We've put together the snacks we think pair perfectly with Kate's Sea Salted Butter, but you're free to get creative and improvise on any of these. From smoked fish to charcuterie, fruits to vegetables, you can make this board all your own. You'll be giving your guests a true taste of Maine when you pair it all with Kate's.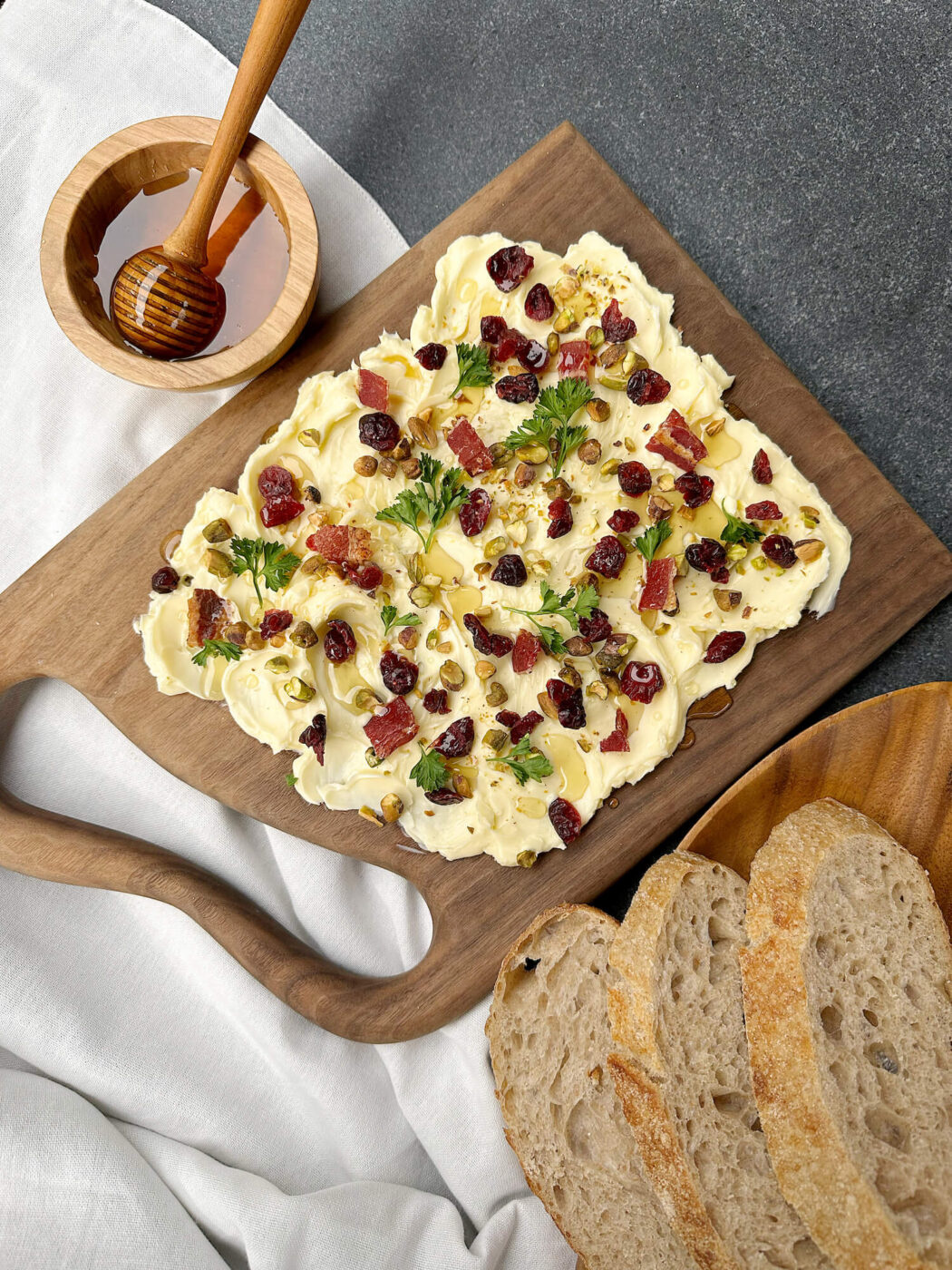 Ingredients
2

sticks

Kate's Sea Salted Butter, softened

2

slices

crispy cooked bacon, crumbled

3-4

tbsp

pistachios, roughly chopped or pumpkin seeds

3-4

tbsp

dried cranberries

½

tbsp

fresh parsley for garnish

honey for drizzling

board/platter
Instructions
Place butter in a medium-sized bowl. Using an electric mixer, whip butter just until it is smooth and fluffy. This step is optional but makes it easier to spread the butter on your serving board/platter.

Using a spatula, smooth the butter over the board. Use your creativity to make it decorative. Have fun with this part. There's no wrong way of doing this. Next, start adding your toppings to your taste. Any of the above amounts can be altered to your liking. Drizzle with honey and garnish with parsley.

Serve with fresh or toasted bread or crackers.