Buttermilk Breakfast Syrup
Buttermilk in your syrup? You'll be pleasantly surprised by the added layer of flavor Kate's old-fashioned buttermilk brings to this morning table staple. This versatile syrup pairs with everything, from breakfast to dinner. Use it as the topper for our favorite Belgian Waffles, and you've got a Sunday breakfast for the books!
Buttermilk's acidity adds a distinct flavor to syrup. Its rich, buttery flavor is complemented by a subtle hint of tanginess from the buttermilk, creating a balance of sweet and savory. Over crispy waffles or sausages and potatoes, Buttermilk Syrup is a decadent treat for your next big family breakfast.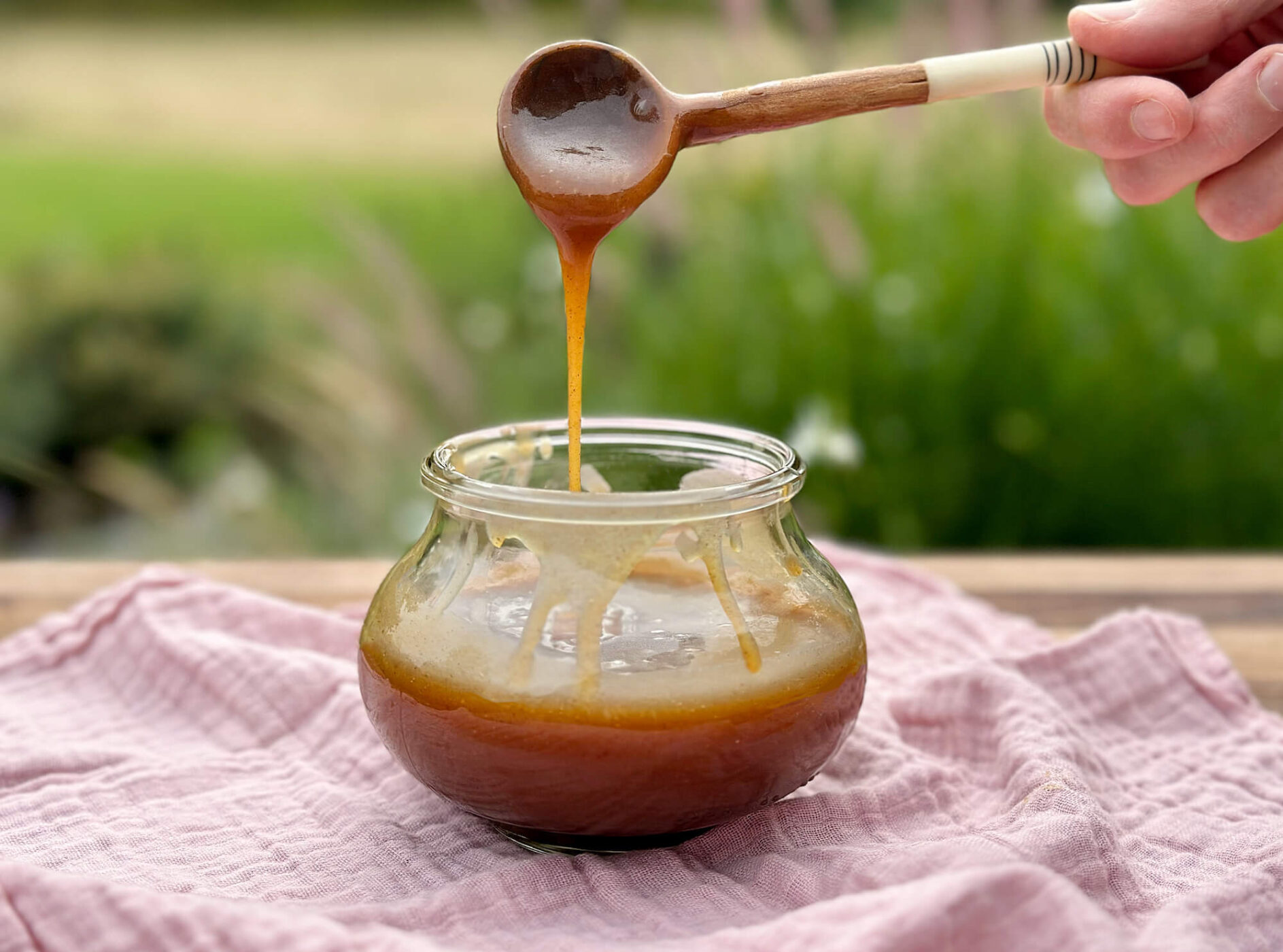 Ingredients
½

cup

Kate's Buttermilk

½

cup

Kate's Unsalted Butter

½

cup

white Sugar

½

cup

light brown sugar

1

tbsp

light corn syrup*

Do not skip the corn syrup in this recipe. It helps give it a perfect syrup texture and stability.

½

tsp

cinnamon

1

tsp

vanilla extract

1

tsp

baking soda
Instructions
Combine the buttermilk, butter, sugars, corn syrup, and cinnamon in a 3-quart saucepan.

Bring to a boil for 2-3 minutes to dissolve the sugar, stirring frequently.

Add the vanilla and baking soda and stir until combined. Be careful as the mixture will bubble and foam up when the baking soda is added.

Remove from the heat and continue to stir until the bubbles slowly reside.

Let cool for a few minutes then serve, or store in your refrigerator in an airtight container.

Reheat in the microwave for up to 1 minute or stove top method on a gentle low heat.
Notes
*Note: Make sure you use a 3-quart or larger saucepan. As soon as you add baking soda and vanilla, the syrup will foam and bubble up, and you do not want it to overflow!